200 Club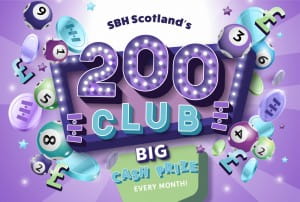 One BIG cash prize every month and raising vital funds for SBH Scotland at the same time! Are you ready to sign up for the all new 200 Club?
A maximum of 200 people can be part of this exciting fundraising prize pot.
Every month SBH Scotland supporters pay £10 via direct debit.
50% of that money will be paid out in prize money to one lucky winner
50% will go directly towards SBH Scotland's essential support services across the country.
The winner is chosen on the second Wednesday of each month using a digital random number generator.
Once 200 people have joined the club the monthly prize pot will be £1000!
There is no limit to the amount of numbers you can purchase each month. The more numbers you purchase the greater chance of winning.
Sign up NOW online. Alternatively email or call our team on 03455 211 600 to have a form sent to you.